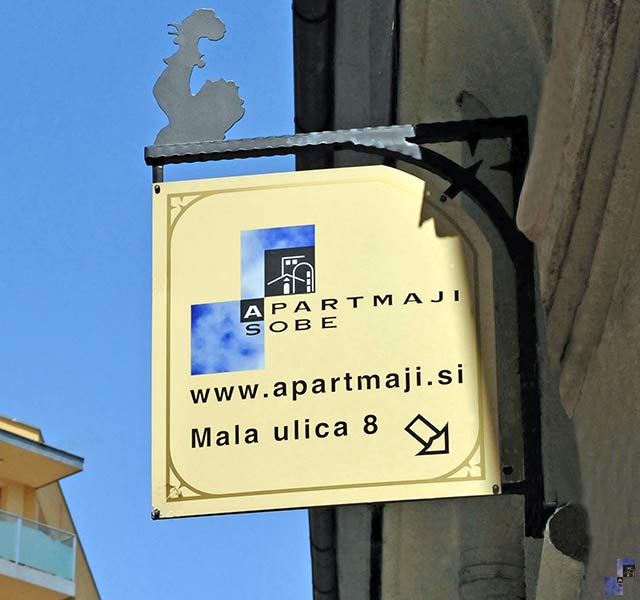 Where to find us
Tour As Central Apartments are situated in the center of Ljubljana, the capital of Slovenia, which lies between Vienna and Venice, not far away from the Adriatic Sea. Its city region has always laid at the intersection of important transport routes leading from northern Europe to the Adriatic Sea and from western to eastern Europe and further on to the Balkans and the Near East. The central position of Ljubljana constitutes a perfect starting point for the exploration of Slovenia's diversity.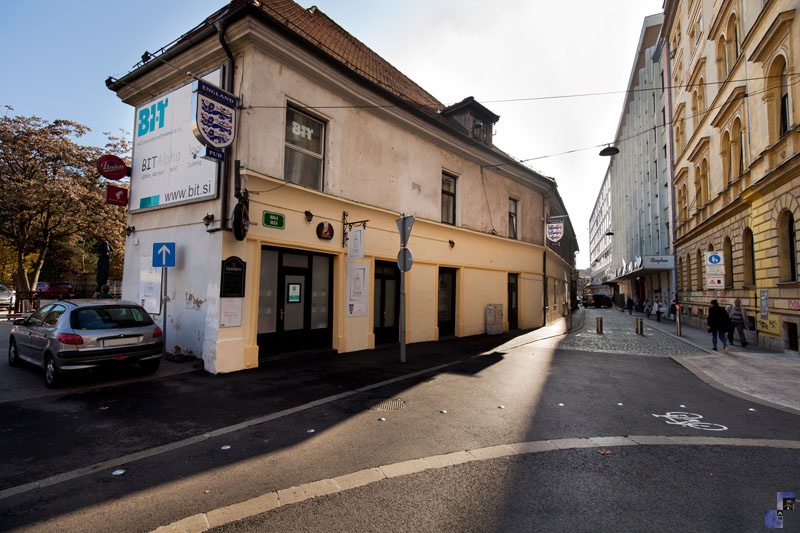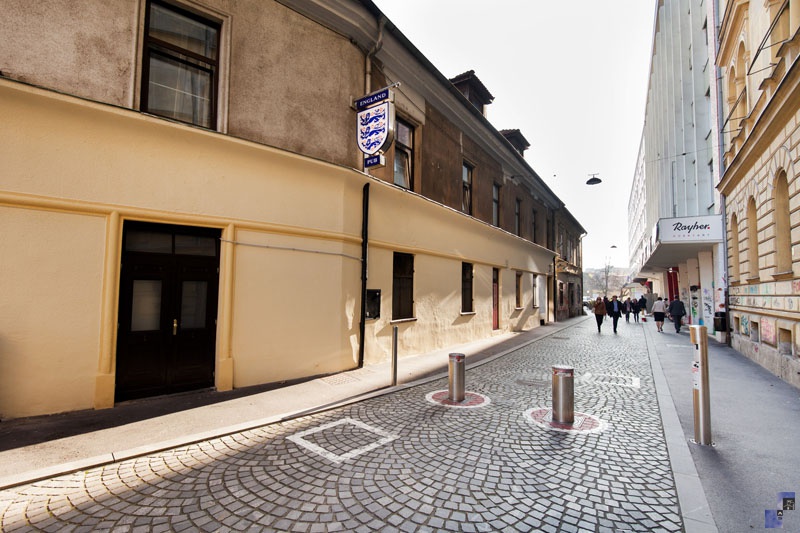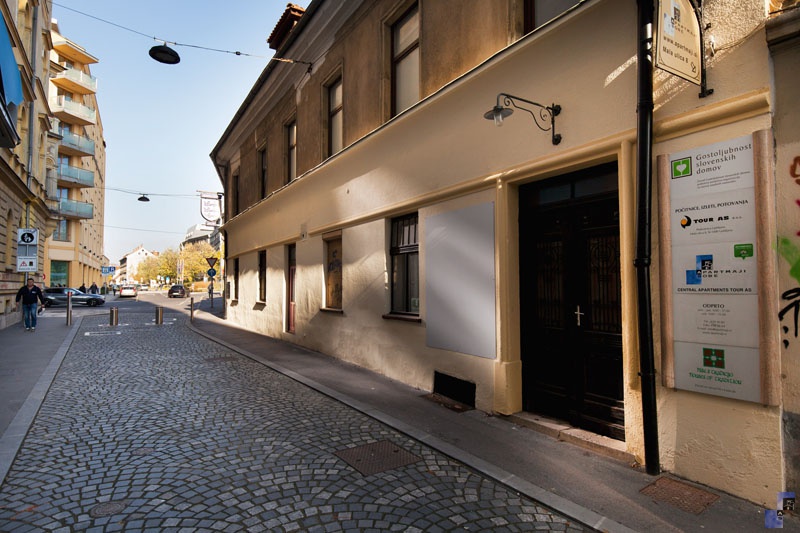 The reception desk of
Tour As Central
Apartments at Mala ulica 8, at the entrance to the old town's pedestrian zone
In the immediate vicinity of the apartments are the main city sights, most of them are between 200 m and 1 km away from the famous Three Bridges and Preseren Square. Some apartments and the reception are located at Mala ulica 8, at the entrance to the pedestrian zone of the old town; the reception is accessible by car. Main train and bus station are 400m away from the reception. Distance to the Airport Brnik – Joze Pucnik is 27km.
GPS coordinates:
46° 03' 12.16"N, 14° 30' 29.70"
Address: Mala ulica 8, 1000 Ljubljana
T: +386 1 434 26 60, GSM: +386 31 490 150, F: +386 1 434 26 64
E: info@apartmaji.si
from Villach (Austria) 106 km:

E651

from Klagenfurt (Austria) 87 km:

E652

or

E61

from Graz (Austria) 200 km:

E57

or

E59

from Trieste (Italy) 95 km:

E61

or

E70

from Zagreb (Croatia) 134 km:

E70

from Budapest (Hungary) 465 km:

E57

or

E71
Distance from Ljubljana to other European cities:
Venice (Italy)

: 245 km

Belgrade (Serbia)

: 540 km

Vienna (Austria)

: 385 km

Frankfurt (Germany)

: 800 km

Milano (Italy)

: 498 km

Munich (Germany): 408 km
Prague (Czech)

: 649 km

Rome (Italy)

: 753 km
Ljubljana Jože Pučnik Airport, located in Brnik near Ljubljana, is the country's main airport. From the centre of Ljubljana to the airport is approximately 27 km and it can be reached by car within 20 minutes.
Between Ljubljana airport and the main bus station in the center of Ljubljana drives a city bus. Weekdays buses are scheduled hourly; Saturdays, Sundays and during public holidays every 2 hours. The ride takes 45 minutes.
It is also possible to use a van- or mini bus service ("shuttle service") (price: 5-19 €) and taxi (price: 20-45 €).
Transport from the airport to the apartment you can also order with us; driver will meet you at the airport and will take you directly to your accommodation where we will be waiting for you and will escort you to the apartment (price: from 25 € for 1 person up to 96 € for 10 persons).
Ljubljana is also close to several other airports served also by various budget airlines:

Trieste (Italy)

,

Ronchi dei Legionari: 125 km
Venice (Italy), Friuli Venezia Giulia - Marco polo: 235 km
Treviso (Italy), Aeroporto San Giuseppe: 240 km
Klagenfurt (Austria): 95 km
Graz (Austria): 187 km
Vienna (Austria), Schwechat: 385 km
Zagreb (Croatia), Pleso: 145 km
Pula (Croatia): 200 km
Ljubljana has many regular train connections to countries around Europe including, among others, the following:
Germany (via Munich)
Switzerland (via Zurich)
Austria (via Salzburg, Villach and Graz)
Croatia (via Zagreb and Rijeka)
Hungary (via Budapest)
Czech Republic (via Prague)
Italy (via Villach)
Greece, Macedonia and Serbia (via Salonica, Skopje and Belgrade)
You can also set off for Italy by train and bus or coach:
via Sežana on the new bus connection which runs between Sežana and Trieste six times a day

via Nova Gorica to Venice from Gorizia Central Station in Italy. Gorizia Central Station is just 3 km from the railway station in Nova Gorica (a 30 minute walk)

Trieste via Koper Coach service
Very popular, simple, environment-friendly and cost-effective means of transport is a city bike, which you can use after registration on the website
www.bicikelj.si
. All 31 parking stations are located within 500 meters of each other and guarantee a quick and easy access to the bikes. The first hour of each ride is free.
To use a Ljubljana city public bus it is necessary to purchase the Urbana public transport card. The Urbana card is available at public utility company (LPP) ticket offices, tourist information centres and most of the city's newspaper kiosks, news-stands and post offices.
Within the car-free city centre area can easily be overcome if you hop on an environment-friendly electric vehicle called Kavalir (Gallant Helper). The vehicle can accommodate up to five people. Rides are free of charge.
Schedule: 1 April - 31 October, Monday to Saturday 8:00-18:00, Sunday 8:00-17:00.
Pre-ordered rides: +386 (0)31 666 or +386 (0)31 666 332.