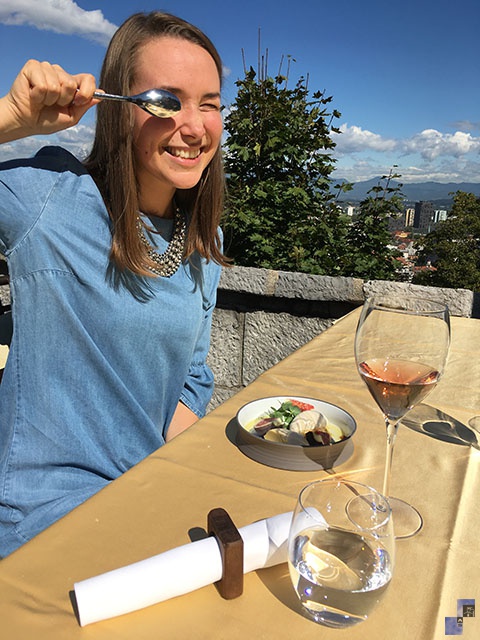 Ljubljana has long renowned for its excellent food! Try for yourself authentic slovenian dishes and get to know the slovenian capital at the same time.
Duration of the gastronomy tour: 1 or 2 days

Price: 99 EUR per person - which includes:

Food and Drink:
1. LOLITA SINFULLY SWEETS (Three bridges)
Lolitas special coffee or wining cocktail Lolita + fresh sandwich
2. CAFFE BIENALE (Tivoli park)
Smoothie apple strudel + prekmurska gibanica
3. STRELEC / ARCHER RESTAURANT * (Ljubljana castle)
Three Course Degustation Menu + glass of wine
4. CASTLE CAFFE (Ljubljana castle)
Spirit drink dolenjski sadjevec or homemade apple juice + dessert Tower cake
5. PIVNICA PAVILJON / PAVILJON PUB * (Gospodarsko razstavišče)
Burger or Trubarjeva dish + beer *
*Closed on sundays and holidays

Possible extras: Guided Culinary tour of historic Ljubljana in different languages from 100 EUR/group, funicular ride to Ljubljana castle, explore the Ljubljana castle on your own with audioguides, visit International Centre of Graphic Arts in Tivoli castle, National or Modern gallary, boat Cruise on the River Ljubljanica.
Sign up to a tour of gastronomic indulgence "Ljubljana style". Begin in the heart of the city near Tromostovje Three Bridges. To start your day - enjoy a wonderfully aromatic coffee and homemade fresh sandwich at the Lolita Café. Continue your stroll past the Town Hall, the National and University Library and the University of Ljubljana as far as the Roman wall and the main information point iEmona. Here you can imagine the Roman city of Emona as it was 2000 years ago.
Continue your tour past the Slovenian Parliament and the National Museum of Slovenia, which houses the oldest musical instrument in the world, an instrument some 55,000 years old. Your walk continues to nearby Tivoli Park, and while at the Tivoli Castle café try a refreshing smoothie and Slovenian national dessert Prekmurska gibanica.
Continue on foot along the Jakopič promenade past the National Gallery of Slovenia as far as the medieval heart of the city, experience the time dating back to the 16th century, a period when Slovenian Protestants wrote the first Slovenian book on our soil.
Continue past Zmajski most Dragon Bridge and the lively Plečnik market area and you come upon the Cathedral of St. Nicholas. From there it is not far to the funicular up to Ljubljana Castle. You can also simply climb to the castle on foot. Lunch or dinner at the castle can be postponed until the following day.
Perched high up in the archer's tower, the award-winning restaurant found in the Ljubljana Castle overlooks the city from a grand position, producing spectacular panoramic views. Resaturant Strelec features a menu filled with well-balanced, modern, signature dishes with lovely complimentary flavours and subtle French influences crafted by the one of the top three chefs in Slovenia, Igor Jagodic. After great lunch or dinner at Resaturant Strelec enjoy traditional slovenian spirit drink dolenjski sadjevec or homemade apple juice and signature dessert Tower cake at Castle Caffe.
Simply follow the map and visit the last location Paviljon Pub where you can enjoy delicious burgers or Trubar dishes made from 500 year old recepies and quality beers. Bon appétit!
Il prezzo delle escursioni guidate include trasporto, assicurazione e guida in lingua slovena, inglese, tedesca, francese o russa. I biglietti sono inclusi nel prezzo delle escursioni guidate standard, esclusi invece dal prezzo delle escursioni individuali.
Per le escursioni guidate in lingua inglese, il numero minimo di persone partecipanti è di 2.

Il trasporto alle attrazioni include trasporto e un autista anglo parlante (senza guida e biglietti d'ingresso).
Condizioni di pagamento: pagamento totale fino al giorno della partenza.
Metodi di pagamento: contanti, versamento bancario o carta di credito Eurocard, Mastercard, Visa, American Express.
Cancellazione: nel caso l'escursione venisse cancellata con meno di 24 ore di anticipo, si paga il prezzo intero.

È possibile preparare anche un'offerta individuale per gruppi grandi per le escursioni guidate in Slovenia.
Prenotazioni
TOUR AS d.o.o.,
Mala ulica 8
1000 Lubiana, SLOVENIA
T:
+386 1 434 26 60,
F:
+386 1 434 26 64
E:
info@apartmaji.si
GPS: 46° 03' 12.16"N, 14° 30' 29.70"E