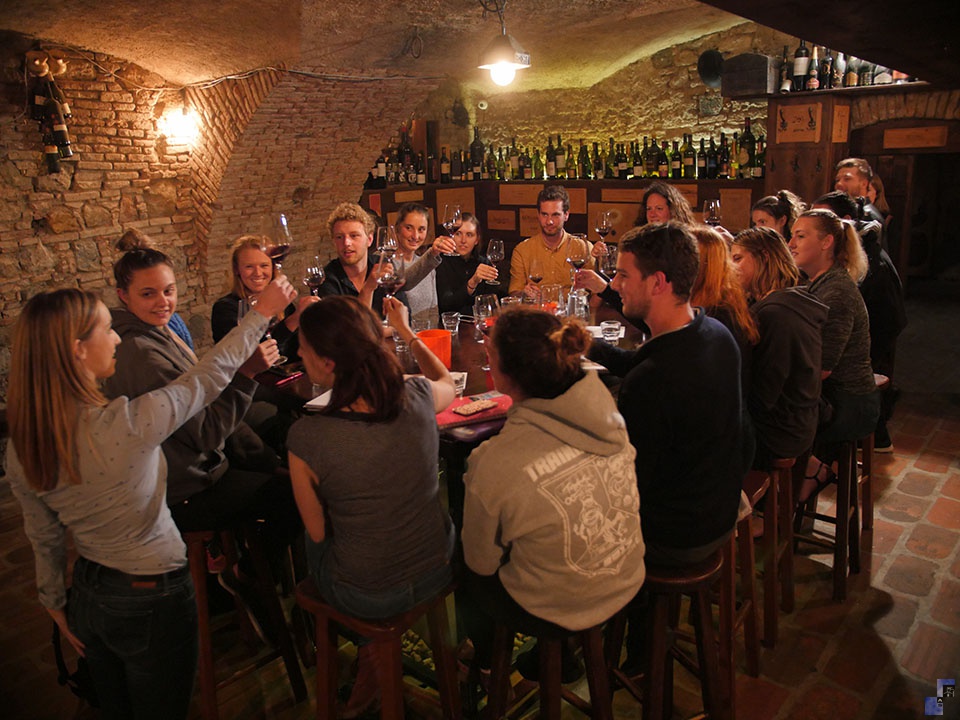 Get introduced to Slovenian wines the right way
Taste 7 finest Slovenian wines from different wine regions
Presented by wine expert
Learn must-know wine facts
Delicious appetizers
Certificate for becoming an ambassador of Slovenian wines
Souvenir
Where: In 300-year old wine cellar
2 hour Wine Tasting starts every day at 5pm.
Sign up is required to reserve your spot.
The tasting is conducted in English.
Contact us for private groups.
Facts about Slovenia and wine
Slovenia is home to the oldest vine in the world. Even the Queen and the Pope own a bottle of wine that was made from it.
There is a vineyard or a winery on every 70 people in Slovenia and we consume 94% of wine we produce.
There are over 50 types of vines that thrive in Slovenia and 7 native wine varieties.
Wine plays such an important role in our culture that our national anthem is actually a toast.
We are located on the 46th parallel like some of the best wine producing regions in the world – Napa Valley, Bordeaux…
Ljubljana is the first city in the world to host international wine evaluations.
Il prezzo delle escursioni guidate include trasporto, assicurazione e guida in lingua slovena, inglese, tedesca, francese o russa. I biglietti sono inclusi nel prezzo delle escursioni guidate standard, esclusi invece dal prezzo delle escursioni individuali.
Per le escursioni guidate in lingua inglese, il numero minimo di persone partecipanti è di 2.

Il trasporto alle attrazioni include trasporto e un autista anglo parlante (senza guida e biglietti d'ingresso).
Condizioni di pagamento: pagamento totale fino al giorno della partenza.
Metodi di pagamento: contanti, versamento bancario o carta di credito Eurocard, Mastercard, Visa, American Express.
Cancellazione: nel caso l'escursione venisse cancellata con meno di 24 ore di anticipo, si paga il prezzo intero.

È possibile preparare anche un'offerta individuale per gruppi grandi per le escursioni guidate in Slovenia.
Central Apartments Tour As
Prenotazioni
TOUR AS d.o.o.,
Mala ulica 8
1000 Lubiana, SLOVENIA
T:
+386 1 434 26 60,
F:
+386 1 434 26 64
E:
info@apartmaji.si
GPS: 46° 03' 12.16"N, 14° 30' 29.70"E