Discover Beer Tasting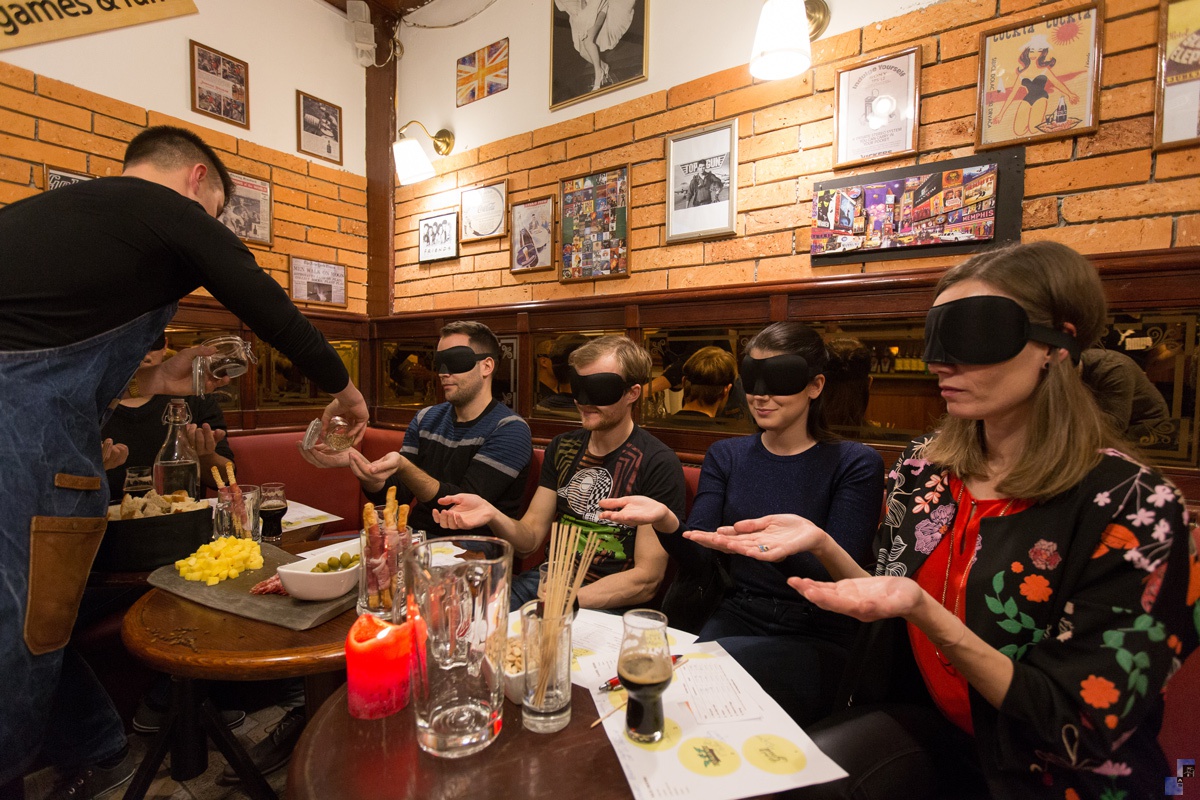 Taste 6 craft Slovenian beers from different regions
Learn must-know beer facts
In the local pub

The Offer

6 craft Slovenian beers
Delicious appetizers
Presented by beer expert
Certificate for becoming an ambassador of Slovenian beers
Souvenir

35€ / person

2 hour Beer Tasting starts every day at 7pm.
Sign up is required to reserve your spot.
The tasting is conducted in English.
Contact us for private groups.

Location:

Holiday's Pub, Slovenska cesta 36,
1000 Ljubljana

Q: What kind of beer will we be tasting?
A: 6 of the best local beers from different beer producing regions of Slovenia.

Q: Who is this tasting for?
A: Anyone who's interested in getting to know Slovenian beer. Perfect for both novice and expert beer tasters.

Q: In what way is this beer Tasting unique?
A: Beer Tasting Ljubljana is interactive, includes games and challenges, which makes it much more fun than other tastings.

Facts about Slovenia and beer

There are more than 100 microbreweries in Slovenia which has only 2 million people.
Slovenians drink almost 100l of beer in a year on average.
Slovenia is 7th biggest exporter of hops in the world.
Best German and Czech Lagers are often made from Slovenian hops.
We export more beer than we drink it.
Some Slovenians believe that drinking beer helps women grow breast.
The price of the guided tours includes: guide, transport and accident insurance.
Admissions are included in the price of the scheduled guided tours. Admissions are not included in the prices of individual guided tours.
Minimum number of people attending a regular scheduled guided tour in English is 2, otherwise the tour can be canceled or postponed to another day.

Private daily tours are conducted in Slovene, English, Russian, German or French and scheduled daily tours are conducted ONLY in English.

Transfers to and from attractions include transport and English-speaking driver (without a guide and entrance fees).

Terms of payment: payment in full up until one day before the start of service.
Manner of payment: in cash, by bank transfer or by credit cards Eurocard, MasterCard, Visa, American Express.
Cancellation: if the tour is cancelled by applicants in less than 24 hours before the tour is due to take place the whole amount for the tour should be paid.

In some cases different prices and general terms and conditions may be agreed upon. Pursuant to the Slovenian Code of Obligations, TOUR AS reserves the right to cancel the programme in case of force majeure or to slightly modify it but not to the detriment of its content.

General terms and conditions form part of the programme.

An individual proposition for Slovenia tours can be prepared upon agreement as well.
Reservation
TOUR AS d.o.o.,
Mala ulica 8
1000 Ljubljana, SLOVENIA
T:
+386 1 434 26 60,
F:
+386 1 434 26 64
E:
info@apartmaji.si
GPS: 46° 03' 12.16"N, 14° 30' 29.70"E