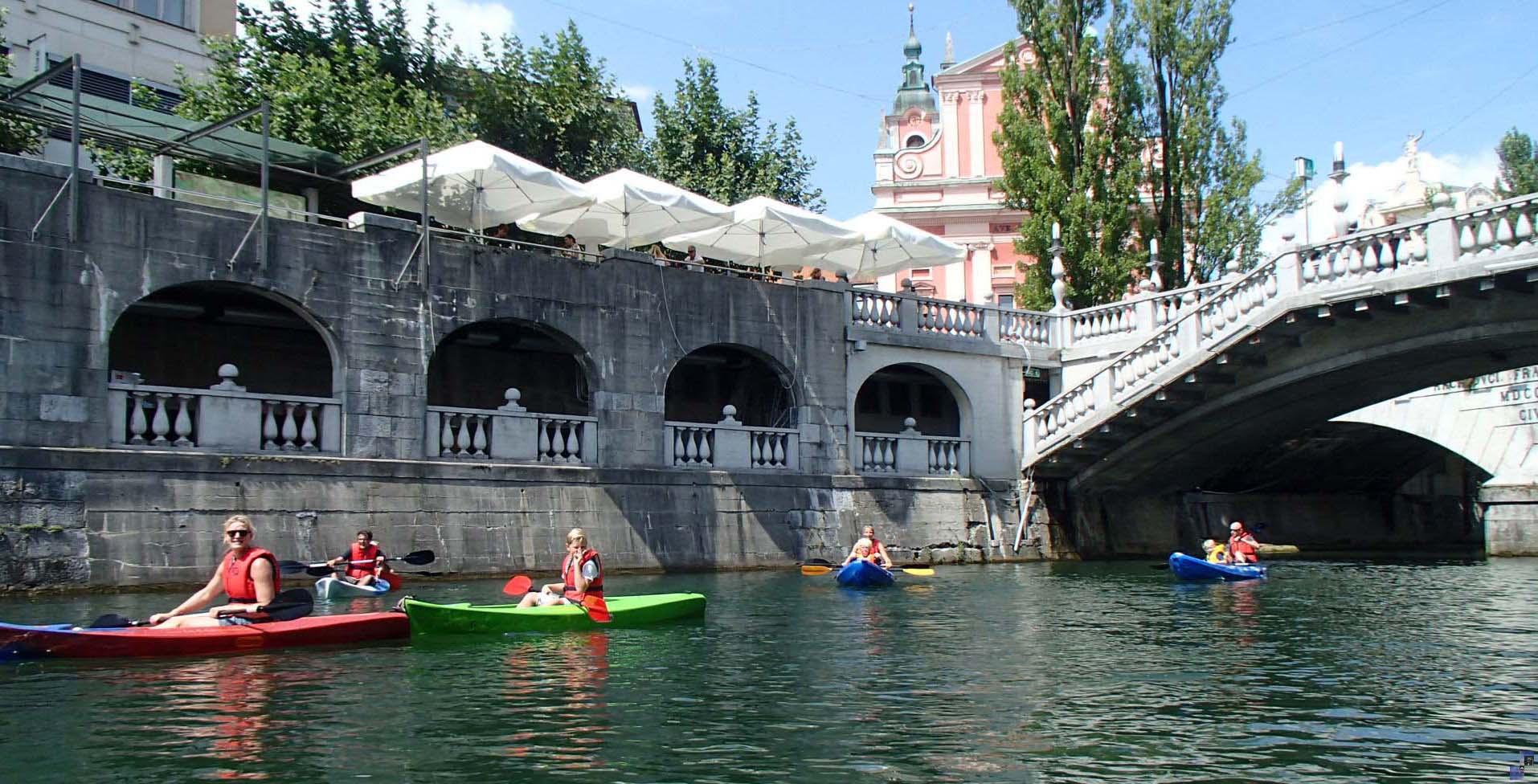 FROM HAUPTMANC TO THE TRIPPLE BRIDGE!
Without prior knowledge!

Join us for rowing on the river of seven names (Ljubljanica) and Iščica to learn the basics of rowing. The beauty of wilderness at the threshold of civilization will discover the river itself.
Rowing is like a safari where you can observe wild fauna and flora in, on and along the river. You can take a bath in the river; you will not be the first!

Only a few steps from the last city streets in the capital city of Slovenia - Ljubljana there is the moor named Ljubljansko barje. Around 150 km2 marsh plain is marked by an endless patchwork of meadows, fields, hedgerows, ditches and creek. Surrounded by motorways Ljubljansko barje in rushing traveller leaves no special interest. And what may be so special in the province at the edge of the capital city and have a name associated with the marshes? But anyone who will explore the way inside will be pleasantly surprised. It is filled with songs of birds, buzzing insects, frogs and the calls of slow moving gently murmuring water. The wheels of daily life here stop.

For all rowing tours we recommend light clothing and footwear appropriate to the season, swimwear, in hot weather crème or spray for protection against insects, the head cover, dry clothes and shoes, at least 1 litre of water, light gloves and a towel. Keep the mobile phone and valuables in a waterproof bag. Respect the nature and other visitors.

Period: April – October

Location: The River Iščica from the bridge in Hauptmance and the river Ljubljanica to Triple Bridge, end at Livada. A transfer to and from your starting point we can arrange per request (extra charge) – reservation must be made in advance. To return to the city centre it is also possible to take a walk all along the river Ljubljanica (1 km).

Duration: 2 hours
Price: 39 EUR per person
Price includes: seat boat, paddle, life jackets, general liability insurance and English speaking guide. All participants must know how to swim.

Min. participants: 2
Max. participants: 6

Tour guides in other language per request (extra charge)!
The price of the guided tours includes: guide, transport and accident insurance.
Admissions are included in the price of the scheduled guided tours. Admissions are not included in the prices of individual guided tours.
Minimum number of people attending a regular scheduled guided tour in English is 2, otherwise the tour can be canceled or postponed to another day.

Private daily tours are conducted in Slovene, English, Russian, German or French and scheduled daily tours are conducted ONLY in English.

Transfers to and from attractions include transport and English-speaking driver (without a guide and entrance fees).

Terms of payment: payment in full up until one day before the start of service.
Manner of payment: in cash, by bank transfer or by credit cards Eurocard, MasterCard, Visa, American Express.
Cancellation: if the tour is cancelled by applicants in less than 24 hours before the tour is due to take place the whole amount for the tour should be paid.

In some cases different prices and general terms and conditions may be agreed upon. Pursuant to the Slovenian Code of Obligations, TOUR AS reserves the right to cancel the programme in case of force majeure or to slightly modify it but not to the detriment of its content.

General terms and conditions form part of the programme.

An individual proposition for Slovenia tours can be prepared upon agreement as well.
Reservation
TOUR AS d.o.o.,
Mala ulica 8
1000 Ljubljana, SLOVENIA
T:
+386 1 434 26 60,
F:
+386 1 434 26 64
E:
info@apartmaji.si
GPS: 46° 03' 12.16"N, 14° 30' 29.70"E