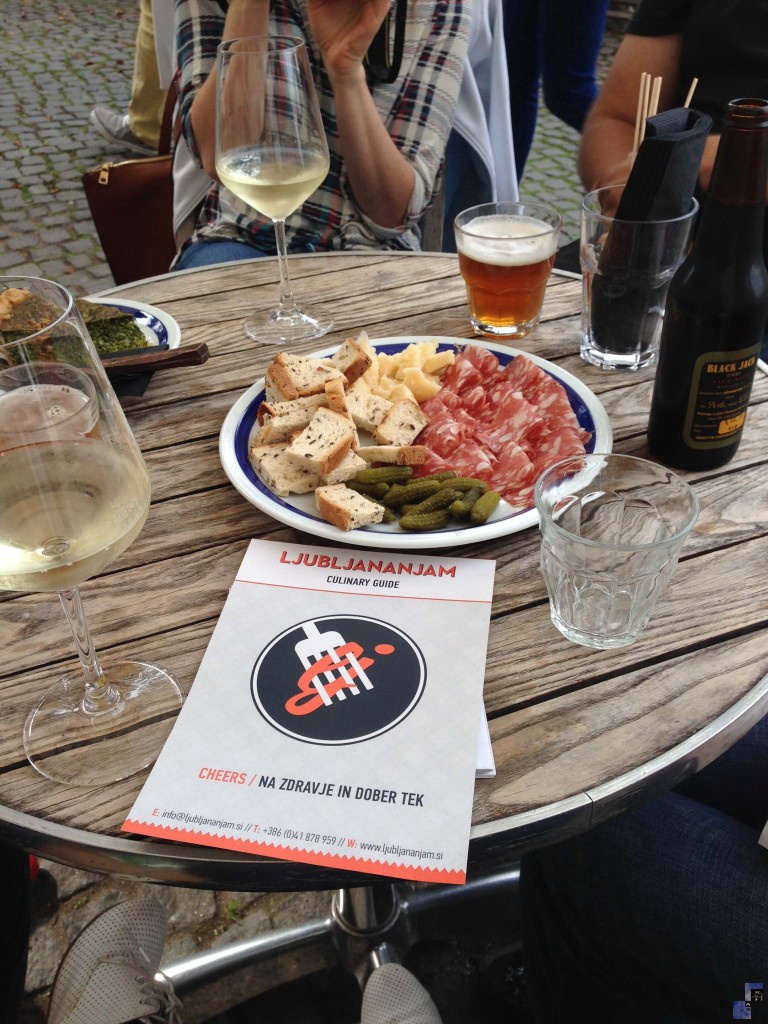 Join us on a food tour on the yummy side of Ljubljana!

Most loved introduction to the yummy side of Ljubljana: taste food, wine, craft beer, coffee and desserts from small, local, independent, family-run businesses as well as their stories.

On our small group, customised, personalised walk through the medieval part of Ljubljana you will stop in several local establishments to sample traditional as well as modern Slovenian cuisine. Experience Ljubljana life 101 with your tastebuds!

Your best start to understand what our cuisine, and people, are all about. We'll eat, drink, share the dishes and stories: while passing most of Ljubljana's main sights we'll explore what it means to live in Slovenia and Ljubljana. Through talking to your foodie guide and the people behind tabletops, you will discover during this food tour small businesses with daily fresh, local and seasonal ingredients, their unique dishes and stories that differentiate them from the rest. Sample their hand-selected goodies, learn all about making the best espresso, chat with vendors at the farmers market and much more – from high end cuisine to lip-smacking comfort food, Ljubljana has it all. And it's yours to discover.
HIGHLIGHTS:
dine where the locals do
experience daily fresh traditional and contemporary Ljubljana cuisine
talk to some local chefs, each with their unique story and culinary vision
gain insight into the best local eateries, gourmet stores and dining hideaways
enjoy a personalised, customised walking tour in a small group with up to 6 people (if you have a bigger group, let us know to prepare something special for you)
meet your new local foodie connection in town who'll be happy to answer anything (yes, also about Melania if you wish)
you won't leave hungry (for food or information), we promise!

Duration: 3,5 – 4 hours.

Walking distance: Approximately 2km with frequent stops in between

Time: daily at 11.30 am, 1pm or 4.30 pm or by demand – except public holidays. Tours starting at 11.30am and 1pm also include a visit to the farmers market. Tours starting at 4.30pm have a different route but same amount of food & drinks. You let us know your preferred time of starting and we'll do our best to make it happen – once one slot is full, we will open another one. If you wish to start outside of designated hours, it is also possible but we consider this as a private tour.

Min./max. participants: 2 – 6 (we like to keep it simple). If there is just one signed up, we'll nevertheless create something yummy for you. Are you travelling in a bigger group? Let us know and we'll arrange it!

Suitable for children and dogs!

Allergic to certain foods? Want to taste more/less? Desire a different time slot? Prefer a higher / lower budget? Let us know in advance and we will accommodate your taste or prepare a private foodwalk for you.

Price:

65 eur/person: at least 4 sit-down stops, 8 tastings (depending on starting time) including coffee & dessert + a choice of 3 drinks (2 dcl craftbeer / 1 dcl wine / any three other non-alcoholic drinks)

Exclusions: extra drinks, personal purchases. Gratuities and tips are highly appreciated.

*Prices are 50 eur extra if there is only one person on the walk.
The price of the guided tours includes: guide, transport and accident insurance.
Admissions are included in the price of the scheduled guided tours. Admissions are not included in the prices of individual guided tours.
Minimum number of people attending a regular scheduled guided tour in English is 2, otherwise the tour can be canceled or postponed to another day.

Private daily tours are conducted in Slovene, English, Russian, German or French and scheduled daily tours are conducted ONLY in English.

Transfers to and from attractions include transport and English-speaking driver (without a guide and entrance fees).

Terms of payment: payment in full up until one day before the start of service.
Manner of payment: in cash, by bank transfer or by credit cards Eurocard, MasterCard, Visa, American Express.
Cancellation: if the tour is cancelled by applicants in less than 24 hours before the tour is due to take place the whole amount for the tour should be paid.

In some cases different prices and general terms and conditions may be agreed upon. Pursuant to the Slovenian Code of Obligations, TOUR AS reserves the right to cancel the programme in case of force majeure or to slightly modify it but not to the detriment of its content.

General terms and conditions form part of the programme.

An individual proposition for Slovenia tours can be prepared upon agreement as well.
Reservation
TOUR AS d.o.o.,
Mala ulica 8
1000 Ljubljana, SLOVENIA
T:
+386 1 434 26 60,
F:
+386 1 434 26 64
E:
info@apartmaji.si
GPS: 46° 03' 12.16"N, 14° 30' 29.70"E