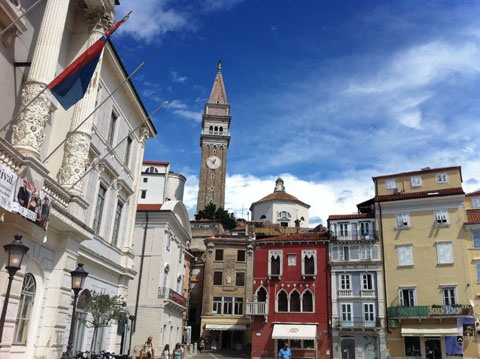 On the way from Ljubljana we stop on the edge of a 300 metre high karst rock to visit Socerb Castle offering breathtaking views of the Slovenian coast. Due to its location, Socerb Castle was already an important stronghold in Illyrian times;it was modified into a fortress in the Roman period.
On the coast we first walk through Piran, a well-known seaside fishing village with a rich history that is heavily intertwined with the history of the Venetian Republic. We continue towards Portoroz, the centre of Slovenian tourism on the coast. In the summer we recommend a visit to the Soline Nature Park, one of the most important cultural sites in Slovenia, where traditional methods of salt production are still used.The salt-rich soil of these wetlands provides ideal living conditions for a variety of plants and animals. We also visit medieval Koper with its well-preserved Venetian architecture.

After lunch, we move along the panoramic path with a picturesque view over the coast towards Hrastovlje, known for its Romanesque church of the Holy Trinity, listed on the World Heritage List. The church is known for its frescoes from the 15th century - the most remarkable among them is the Danse Macabre that illustrates the powerlessness of both poor and rich before Death.

If there is enough time, on our way back we stop in the picturesque karst valley Rakov Škocjan, a first-class marvel of nature. On a short walk we explore the beautiful Rak gorge with its two natural bridges created by water.
Departures from Ljubljana or per request also from other cities in Slovenia.
Price per group:
| | | |
| --- | --- | --- |
| | With guide* | Without guide** |
| 1- 3 osebe | from 270 € | from 230 € |
| 4 - 8 oseb | from 360 € | from 300 € |
*Price includes: transport and guidance in English, Russian language.
**Price includes: transport and informative English-speaking driver.
Optional supplements: entrance to Soline Nature Park (7 €/ person), entrance to Romanesque church of the Holy Trinity in Hrastovlje (3 €/ person).
The price of the guided tours includes: guide, transport and accident insurance.
Admissions are included in the price of the scheduled guided tours. Admissions are not included in the prices of individual guided tours.
Minimum number of people attending a regular scheduled guided tour in English is 2, otherwise the tour can be canceled or postponed to another day.

Private daily tours are conducted in Slovene, English, Russian, German or French and scheduled daily tours are conducted ONLY in English.

Transfers to and from attractions include transport and English-speaking driver (without a guide and entrance fees).

Terms of payment: payment in full up until one day before the start of service.
Manner of payment: in cash, by bank transfer or by credit cards Eurocard, MasterCard, Visa, American Express.
Cancellation: if the tour is cancelled by applicants in less than 24 hours before the tour is due to take place the whole amount for the tour should be paid.

In some cases different prices and general terms and conditions may be agreed upon. Pursuant to the Slovenian Code of Obligations, TOUR AS reserves the right to cancel the programme in case of force majeure or to slightly modify it but not to the detriment of its content.

General terms and conditions form part of the programme.

An individual proposition for Slovenia tours can be prepared upon agreement as well.
Reservation
TOUR AS d.o.o.,
Mala ulica 8
1000 Ljubljana, SLOVENIA
T:
+386 1 434 26 60,
F:
+386 1 434 26 64
E:
info@apartmaji.si
GPS: 46° 03' 12.16"N, 14° 30' 29.70"E