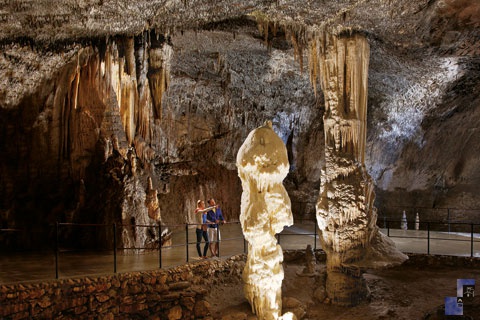 Visit the Postojna Caves, which are certainly the best-known tourist caves in the world. Here you can marvel at the sight of amazing creations in limestone sculpted continuously by water over a thousand years. There are around 5 km of tunnels open for tourists. At first an underground tourist train takes you through older underground tunnels; the way continues on a wel- maintained walking route through the most beautiful halls, where you can see proteus – the rare animal species, it is a type of amphibian, living only in underground caves – and on to the concert hall, where because of the outstanding acoustics concerts are often held. A visit to Postojna caves lasts an hour and a half, the temperature in the caves is up to 12 º C and therefore suitable clothing and footwear are necessary.

Predjama Castle is located 10 km away from Postojna in Predjama village, cut into a rock face up high above the ground. It used to be the shelter of a knight by the name of Erasmus and that is why every summer a traditional medieval knights' tournament is staged there. The castle is now museum and is open for tourist visitors as well. Did you know that in 1986 the actor Jackie Chan chose Predjama Castle for filming Armour of God?
Departures from Ljubljana or per request also from other cities in Slovenia.

*Price includes transport and guidance in English, Russian language.
**Price includes: transport and informative English-speaking driver.

Surcharges: Entrance to Postojna Cave and Predjama Castle (35 € / person).

The trip can be combined with a visit of Ljubljana.
The price of the guided tours includes: guide, transport and accident insurance.
Admissions are included in the price of the scheduled guided tours. Admissions are not included in the prices of individual guided tours.
Minimum number of people attending a regular scheduled guided tour in English is 2, otherwise the tour can be canceled or postponed to another day.

Private daily tours are conducted in Slovene, English, Russian, German or French and scheduled daily tours are conducted ONLY in English.

Transfers to and from attractions include transport and English-speaking driver (without a guide and entrance fees).

Terms of payment: payment in full up until one day before the start of service.
Manner of payment: in cash, by bank transfer or by credit cards Eurocard, MasterCard, Visa, American Express.
Cancellation: if the tour is cancelled by applicants in less than 24 hours before the tour is due to take place the whole amount for the tour should be paid.

In some cases different prices and general terms and conditions may be agreed upon. Pursuant to the Slovenian Code of Obligations, TOUR AS reserves the right to cancel the programme in case of force majeure or to slightly modify it but not to the detriment of its content.

General terms and conditions form part of the programme.

An individual proposition for Slovenia tours can be prepared upon agreement as well.
Reservation
TOUR AS d.o.o.,
Mala ulica 8
1000 Ljubljana, SLOVENIA
T:
+386 1 434 26 60,
F:
+386 1 434 26 64
E:
info@apartmaji.si
GPS: 46° 03' 12.16"N, 14° 30' 29.70"E