3. Scheduled small group day trips
POSTOJNA CAVE, PREDJAMA CASTLE & PIRAN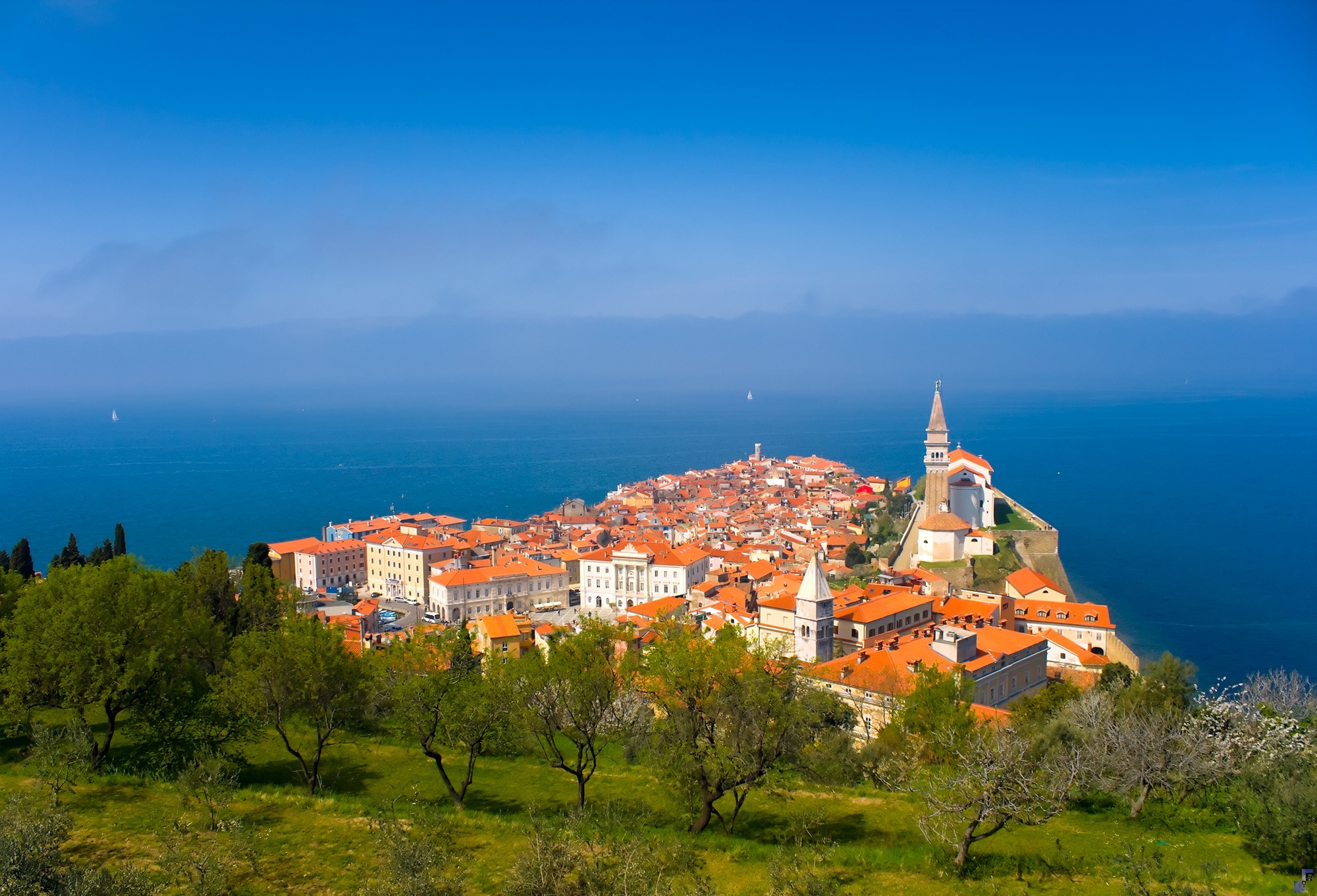 Combine some of the most popular attractions in Slovenia and spend the day exploring the enchanting Postojna cave with its underground train, mysterious Predjama castle, and charming coastal town of Piran.
Visit the most famous and best-known cave in the world, Postojna Cave. Starting the visit with a unique and adventurous train ride, you will have the chance to see amazing stalactites, stalagmites, galleries and magnificent halls. Prepare yourself for an underground experience and a large diversity of underground animals – including the world famous human fish (proteus anguinus).
After Postojna Cave you will visit the idyllic village Predjama and the mysterious Predjama Castle. Perched high up in a vertical 123-metre high cliff the castle is famous because of its history and mysterious tunnels. Listen to the story of the medieval noble knight Erazem of Predjama and enjoy a walk through the picturesque interior and exterior of the castle.
Continue the visit towards Slovenian coast and enjoy the charming town Piran. Walk through its narrow medieval streets wedged between beautiful houses, churches and squares. Enjoy the lively main square, named after a famous violinist and composer Giuseppe Tartini, and treat yourself with a magic gelato while relaxing by the sea.

Price includes: English speaking guide, еransport by air-conditioned minivan, admission to Postojna cave, admission to Predjama castle, admission to Piran City wall

Price is valid for departures from Ljubljana. Per request it is also possible to arrange departure from other cities in Slovenia.
The price of the guided tours includes: guide, transport and accident insurance.
Admissions are included in the price of the scheduled guided tours. Admissions are not included in the prices of individual guided tours.
Minimum number of people attending a regular scheduled guided tour in English is 2, otherwise the tour can be canceled or postponed to another day.

Private daily tours are conducted in Slovene, English, Russian, German or French and scheduled daily tours are conducted ONLY in English.

Transfers to and from attractions include transport and English-speaking driver (without a guide and entrance fees).

Terms of payment: payment in full up until one day before the start of service.
Manner of payment: in cash, by bank transfer or by credit cards Eurocard, MasterCard, Visa, American Express.
Cancellation: if the tour is cancelled by applicants in less than 24 hours before the tour is due to take place the whole amount for the tour should be paid.

In some cases different prices and general terms and conditions may be agreed upon. Pursuant to the Slovenian Code of Obligations, TOUR AS reserves the right to cancel the programme in case of force majeure or to slightly modify it but not to the detriment of its content.

General terms and conditions form part of the programme.

An individual proposition for Slovenia tours can be prepared upon agreement as well.
Reservation
TOUR AS d.o.o.,
Mala ulica 8
1000 Ljubljana, SLOVENIA
T:
+386 1 434 26 60,
F:
+386 1 434 26 64
E:
info@apartmaji.si
GPS: 46° 03' 12.16"N, 14° 30' 29.70"E