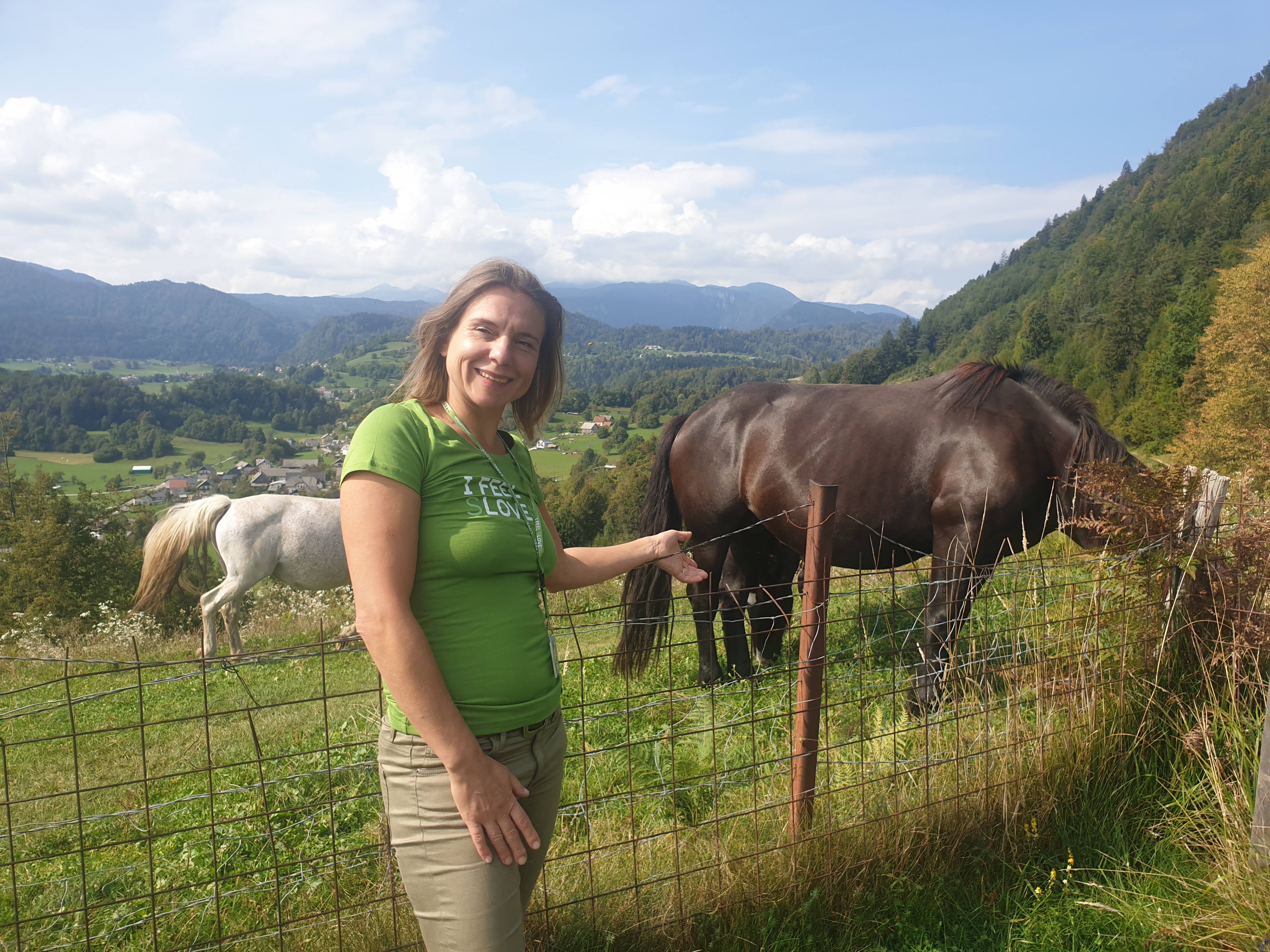 Free tour with local guide
We will walk along the panoramic path which F. Prešeren called the "altar of Gorenjska" and if desired we will also visit the Vintgar gorge, formed over thousands of years by the beautiful river Radovna, taste the noble Viljamovka, Smrekovec, Malinovec and other delicacies of a local spirits producer. If the weather conditions allow, we prepare a herbal spread from cottage cheese and herbs we meet along the way. We will learn about the tradition of processing pear tepka and why it was planted along important roads. What all this, at first glance imperceptibly tree, meant to the ordinary man!
We will also touch women's topics and jointly ask for wisdom at the church of St. Catherine, who celebrates her name day in late autumn.
Where did the border between "Prgarji" and "Kraparji" take place, where do local customs and habits come from. All this you will learn, if you join us on an interesting and undemanding tour.
Admission to the Vintgar Gorge is not included and is at an additional cost. If you've been to the gorge before, we can skip it. Spirits tasting is free, purchase is possible on site.
The walking tour lasts up to 3 hours, sports footwear is recommended and for the case of a bad weather a raincoat or umbrella. In case of rain, the path can be slippery. Bring water and a small blanket (towel).
The meeting point is at the church of St. Catherine on Hom, with a parking lot in front.
The program includes: 2 hours of free easy walking tour of the city center with a local tourist guide in Slovenian and Russian language.
Free tours with a local guide are enabled by the Slovenian Tourist Board in order to raise awareness about how tourist guides improve the quality of the destination experience and at the same time contribute to the support of operation and preservation or raising the quality of tourist guides as an important part of tourist services.

Free tours are available until 10th December 2020 or until the funds are used up.

Registrations are required by e-mail nika.buda@touras.si or by phone +386 (0)41 947 447
The price of the guided tours includes: guide, transport and accident insurance.
Admissions are included in the price of the scheduled guided tours. Admissions are not included in the prices of individual guided tours.
Minimum number of people attending a regular scheduled guided tour in English is 2, otherwise the tour can be canceled or postponed to another day.

Private daily tours are conducted in Slovene, English, Russian, German or French and scheduled daily tours are conducted ONLY in English.

Transfers to and from attractions include transport and English-speaking driver (without a guide and entrance fees).

Terms of payment: payment in full up until one day before the start of service.
Manner of payment: in cash, by bank transfer or by credit cards Eurocard, MasterCard, Visa, American Express.
Cancellation: if the tour is cancelled by applicants in less than 24 hours before the tour is due to take place the whole amount for the tour should be paid.

In some cases different prices and general terms and conditions may be agreed upon. Pursuant to the Slovenian Code of Obligations, TOUR AS reserves the right to cancel the programme in case of force majeure or to slightly modify it but not to the detriment of its content.

General terms and conditions form part of the programme.

An individual proposition for Slovenia tours can be prepared upon agreement as well.
Reservation
TOUR AS d.o.o.,
Mala ulica 8
1000 Ljubljana, SLOVENIA
T:
+386 1 434 26 60,
F:
+386 1 434 26 64
E:
info@apartmaji.si
GPS: 46° 03' 12.16"N, 14° 30' 29.70"E